Add a sprinkle of magic and wonder this Christmas with AQUILA
AQUILA magazine is the ultimate Christmas gift, bringing 12 months of serious, screen-free fun for curious kids of 8-14 years. They will receive intelligent science articles, humorous puzzles and more in every monthly topic. 
Christmas orders start with the Science of Stars issue: featuring Star life-cycles, Orion the hunter & the mystery of Sirius B. Blast off with Mission Stardust & build a 3D rocket, plus make some yummy supernova cookies.
Join us in 2024 to investigate Sharks, Artificial Intelligence, and the Romans.
Easy as one, two, three...
1. Add your subscription and any additional products to your basket.
2. At checkout add a gift message and select a Christmas envelope to ensure arrival in time for the 25th December.
3. You'll receive a Christmas ecard and the December issue will arrive in time for Christmas.
Now in its 30th year of publication, AQUILA is a unique, award-winning children's publication. The magazine is produced in the UK and has readers in 90 countries across the globe. The monthly topics are an entertaining mix of serious facts and fantastic fun.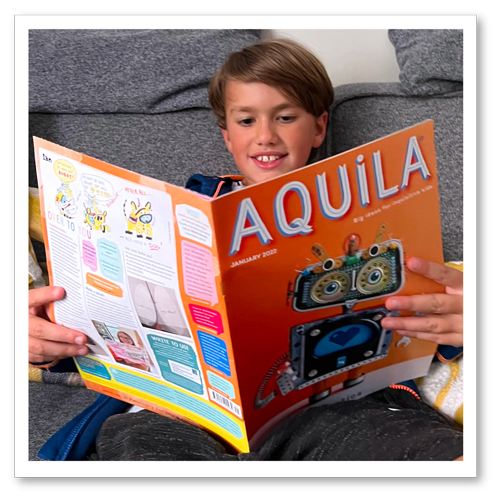 Every month, AQUILA editor Freya Hardy and her team of writers work their magic to create an exciting learning adventure for curious young minds.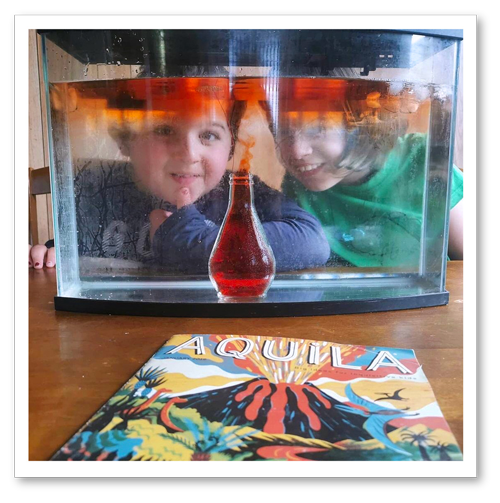 Whatever the topic, AQUILA is joyful and full of fun. In this happy environment learning just happens along the way, and adults enjoy getting involved too.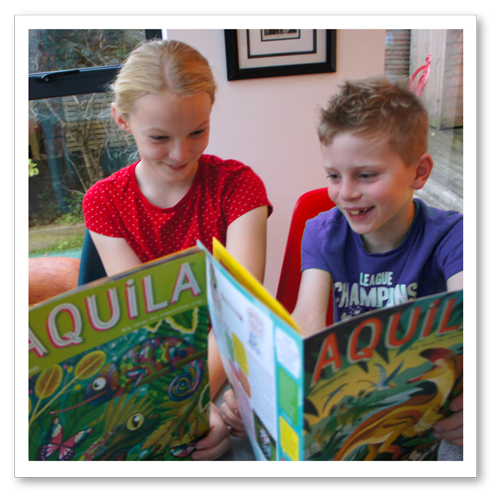 AQUILA has published hundreds of topics over the years. From Time Travel to Chocolate, each one covers S.T.E.M, history, English, maths, science, art and philosophy.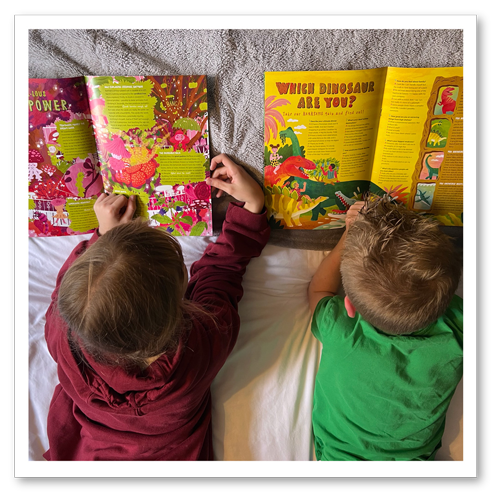 Our letters pages are special: here a community of like-minded kids can share their theories, favourite books, everyday adventures and much, much more.
"...absolutely astonishing, and so well curated it could become a reference tool... it doesn't focus on current affairs (and) is always relevant. Ideas are quite exceptional, and the time and effort put in shines from every page."
"My eight year olds' favourite magazine. She's a great reader of books but Aquila gets read over and over again. Educational, colourful and fun, really exceptional quality. It's her second year and the whole family enjoys it."
"My children call AQUILA "the BIG BRAINS magazine"...it was so unlike anything they'd seen before. I can't think of a better magazine when it comes to introducing young readers to a wide range of fascinating topics, challenging them to think for themselves and helping them learn how to navigate the world we live in."
"Sooooo obsessed with Aquila over here in Colorado! My oldest got a subscription for his birthday and it's top of his list for his 12th birthday this year…we are now on binder number 3... thank you for providing the most amazing publication for kids."
"Even Grandmothers enjoy these magazines!"
"The best thing that's happened to my son's reading! Just the right level of challenge and he absolutely absorbs the new knowledge, as do I. Highly recommend..."
"Third year of AQUILA and I just wanted to reach out and say thank you. The quality of the content is absolutely phenomenal and I can't believe how much you manage to pack in to every magazine. It's brilliant to find something for my child that isn't gaming so thank you so much for making such a wonderful resource."
"...I would love to send you a picture of him walking along reading it because he simply couldn't put it down! He is something of an expert with facts but you still manage to teach him lots of new ones. Thanks for producing such a high quality, educational yet fun magazine."
"Brilliant informative magazines, my grandson looks forward to them every month. Great for adults too"
"Best magazine my son had, he devoured it every month. I'd highly recommend. Loads of different topics broken down into bite sized pieces, in a format that's bright and attractive."
Take a peek inside our December issue, Science of Stars. Each issue brings a brand new topic, coming up in 2024: Sharks, Artifical Intelligence, The Feel Good Issue, The Romans, Mega Maths, Rainforests and Vikings.